Basic Information
8 am to 5 pm (arrival: 8 to 9 am; pick-up: 4 to 5 pm)
Full board, special dietary meals available
Learn more
Classes
Find your inner peace at our yoga camp by Lupa Beach: open-air yoga at Lupa Beach grants a special exercise daily for your body and soul, as it shapes your body, and improves your strength in a naturally perfected way, while it also provides stress relief for your muscles and mind. Going through the drills of daily yoga classes, you'll be able to shut out the impact of the outside world and to control your feelings and thoughts in order to get relaxed completely. Yoga is one of the best ways of recreation, with the exclusive panorama of Lupa Beach providing an ideal setting. This class is available for the ages between 8 and 16, and includes a 1,5-hour yoga session every day, Monday through Friday, in small groups – don't hesitate, join us!
Free time games and activities
Beach Sports
Handball, football, volleyball and many more on the sandy beach!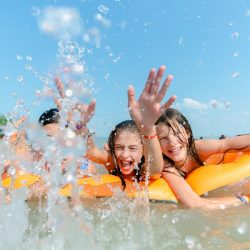 Beach Time
Freedom to enjoy Budapest's best waters!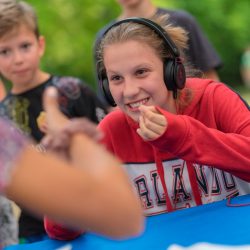 Scavenger Hunt
Our all-time classic team-building game builds on creativity and brings everyone closer to each other!
Emoji game
Get creative and found out the most words from your teammates emoji cards!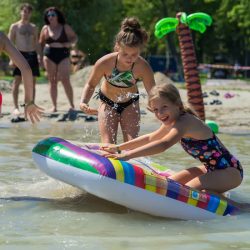 Beach Games
Team building games on the beach to begin the week with!
Water adventure park
Let loose on the gigantic inflatable obstacle course on the lake!
Cayaking
Don't miss out on an unforgettable kayaking trip on the lake!
All possible camp combinations
Choose 2 different classes from the list below for each week of camp (e.g. 1,5 hours of English and 1,5 hours of Yoga make of a total of 3 hours of class each day).