Basic information
Summer day camp
8 am to 5 pm (arrival: 8 to 9 am; pick-up: 4 to 5 pm)
8-12
In groups of 2 to 4 kids
Classes
We have brought Lego Movie Maker, a playful introduction to creative processes to the repertoir of our day camps. In this camp, we are using the well-known tools and figures of Lego as well as educational applications to create stop-motion videos individually. Throughout the week, we gradually get to know more about the basics of movie-making, so the conceptions we learn from each other can help our campers make their own storyboard, pick their characters, organise their scenery and shoot their masterpiece.
Free time games and activities
PlayVR
A PlayVR Budapest legnagyobb virtuális valóság központja, ahol 200 m2-en próbálhatjuk ki a különböző VR élményeket, például a Job Simulatort.
MOM Sport Uszoda
Csobbanás a MOM Sport Uszoda szabadtéri medencéiben! (mélyvíz-biztos úszástudás hiányában karúszóval).
Gellért-hegyi csúszdapark
A közeli, 2017-ben teljesen megújult Gellért-hegyi csúszdaparkba minden turnusban megyünk.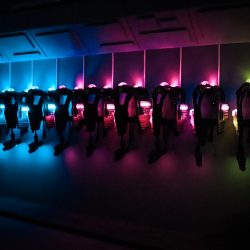 Laser Park
Budapest legnagyobb Laser Parkjába látogatunk el ezen a délutánon!
SHO Beach
Együtt csobbanunk és sportolunk a SHO Beach-en, a Kopaszi-gáton! (Fürdőzés csak mélyvíz-biztos úszástudás esetén).
All possible camp combinations