Basic Information
8 am to 5 pm (arrival: 8 to 9 am; pick-up: 4 to 5 pm)
Full board, special dietary meals available
Learn more
Classes
At our Drone-programming camp, participants can learn how to code in a fun way, using drones and visual programming (like the block-based Scratch programming language). We use DJI Tello and Tello EDU drones, designed especially for coding classroom use, and we program these drones to complete simple flying and filming missions. Throughout the week, there are five 1,5-hour missions, each of them more complex than the one before, furthering our campers's coding skills and also involving some geometry, not to mention the great videos that will turn out from the class work!
Safety notice: Tello is an ultra light toy category drone with an HD camera, equipped with DJI's latest collision avoidance system. During the classes safety is always our top priority: the aim of this class is to use the programs kids write in Scratch, test them, and then allow those program to pilot the drones in a controlled environment.
Free time games and activities
Beach Sports
Handball, football, volleyball and many more on the sandy beach!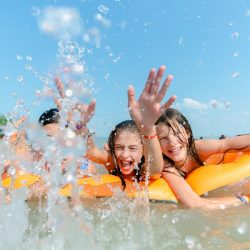 Beach Time
Freedom to enjoy Budapest's best waters!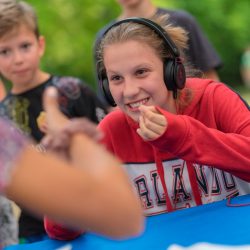 Scavenger Hunt
Our all-time classic team-building game builds on creativity and brings everyone closer to each other!
Emoji game
Get creative and found out the most words from your teammates emoji cards!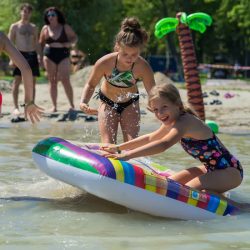 Beach Games
Team building games on the beach to begin the week with!
Water adventure park
Let loose on the gigantic inflatable obstacle course on the lake!
Cayaking
Don't miss out on an unforgettable kayaking trip on the lake!
All possible camp combinations
Choose 2 different classes from the list below for each week of camp (e.g. 1,5 hours of English and 1,5 hours of Yoga make of a total of 3 hours of class each day).