Basic information
Summer day camp
8 am to 5 pm (arrival: 8 to 9 am; pick-up: 4 to 5 pm)
8-16
In groups of 4 to 8 kids
Classes
Football, volleyball, handball, frisbee – all of these can be played in the sand at Lupa Beach. Our sports camp aims to bring a playful introduction to all of these sports and use the outstanding facilities of Lupa Beach to the fullest. Our Beach Sports programme runs for one, 90-minute class every day on each week and our professional team ensures that everyone has a joyful playing experience.
If you want to try something different and challenge both your body and mind, you can complement this course with another 90 minute class, like English, Yoga, SUP and Drone- programming.
Free time games and activities
Water adventure park
Let loose on the gigantic inflatable obstacle course on the lake!
Trampoline Park
Jumping through the afternoon!
Beach Party
The beach is filled with music and fun during the Funside Beach Party
Cayaking
Don't miss out on an unforgettable kayaking trip on the lake!
Funside Water Olympics
Team sports on the sandy beach and in the water!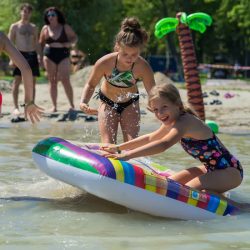 Beach Games
Team building games on the beach to begin the week with!
Emoji game
Get creative and found out the most words from your teammates emoji cards!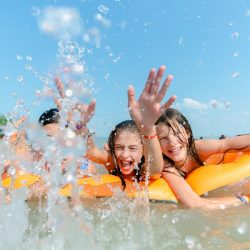 Beach Time
Freedom to enjoy Budapest's best waters!
All possible camp combinations
Choose 2 different classes from the list below for each week of camp (e.g. 1,5 hours of English and 1,5 hours of Yoga make of a total of 3 hours of class each day).