Basic Information
Full board, special dietary meals available
Learn more
Classes
Each weekday morning at the Horseback Riding Camp, we travel from our camp venue to the nearby Idranyi Riding Center, where riding instructors hold classes for our campers in small groups. The classes are based on skill level: beginner and novice riders get about a half-hour riding lessons each time, on a lunge, while more advanced riders get about an hour-long lessons with or without a lunge, inside a paddock. Advanced riders with cross-country proficiency* get to go cross-country riding for 60 to 90-minute sessions, with an instructor. In the remaining time campers also get to take part in other equestrian activities, finding out what it's like to work with a horse daily. We take the trip from the camp to the riding center by minivan or car each day, Monday through Friday, which usually takes about 10 to 15 minutes. Afterwards, we get back to the camp in time for the second period of classes, so you can choose another one of our many different subjects for your second two hours.
* Safety notice: The campers' riding proficiency is checked by the instructors on the first morning to adequately assign the most fitting group, keeping safety of the rider the top priority. Riding helmets and back protectors are provided by us, free of charge. For cross-country riding, a written declaration about the child's proficiency must be signed by the parents. The minimum age requirement for cross-country riding is 10.
Free time games and activities
Each week has different free-time activities. Check out the detailed schedule for each week here...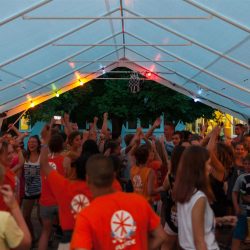 Teen Disco
Our open-air teen disco is a camp classic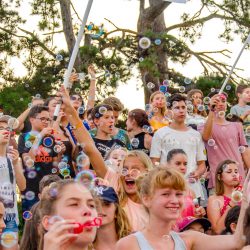 Camp Opening Ceremony
Our traditional camp opening kicks off every session
Lake Balaton
Central Europe's largest lake is just around the corner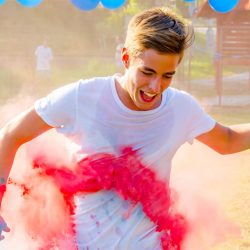 Color Run
Get your T-shirt colored as you cross the line at our favorite fun run!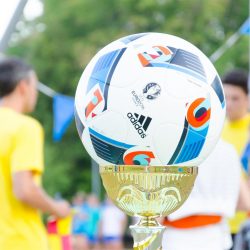 Euro Cup
Celebrate the 2021 Euro Cup with our own fun football games
Beach Party
The beach is filled with music and fun during the Funside Beach Party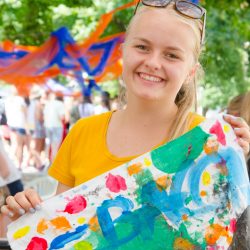 Scavenger Hunt
Funside's own spin on this camp classic is a great way to start off the week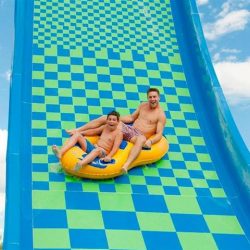 Aqua Park
A trip to the aqua park includes giant water slides, wave pools and a whole lot of fun on the Week 5!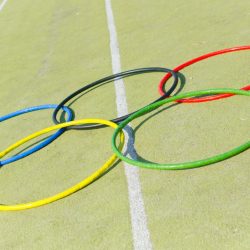 Funside Olympics
Be the best at the crazy games of Funside Olympics!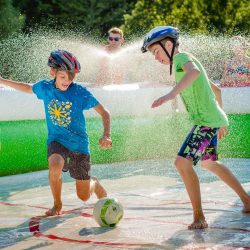 And many more…
There are different weekly themes and activities in each session!
Water Adventure Park
A trip to an aquatic obstacle course on Lake Balaton!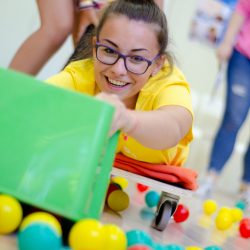 Color War
Teams will compete for a prize through exciting challenges, representing different colors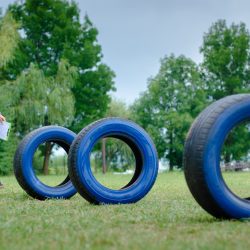 Survivor Day
The tribes of the camp battle each other for valuable points in this exciting game.
Air Park
Inflated obstacles and sports games on 600 square meters in one Ninja Warrior-inspired activity on the Week 1 and 3!
Sims Day
Your group leader will be your sim for a day – turn them into heroes!
Wall Street Trade-off
Play and trade with your friends on the Wall Street of Balatongyörök!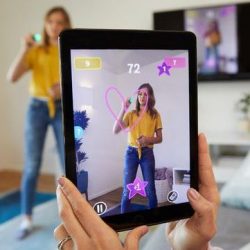 Pictionary Night
Activity nights just got better: draw in the air and hope that your teammates will see the same on the screen as you do in your head!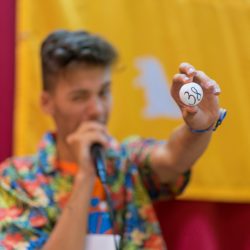 Bingo Lingo
A gigantic game of bingo with a show on stage!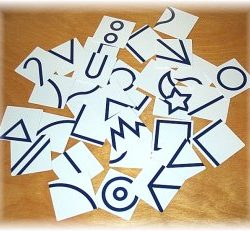 Imagine night
Get creative with your teammates and solve as many puzzles as possible!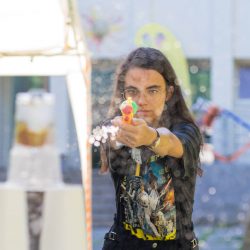 Funside Battle
Funside's own, in real life Battle Royale game! Can you and your team be the last ones standing?
Neon night
Play with your friends under the Neon lights!
Bucket list day
Is there something you've always wanted to try? Name it, and we'll bring it for you!
Check it off!
Get through your team's bucket list together!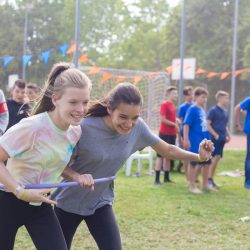 Beach Games
Sunshine, Balaton, music, and a game of skills and cooperation – what else would you need for a summer afternoon?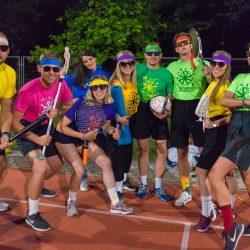 Élő Among Us
A népszerű videójáték idén a táborban is megelevenedik! Vajon te leszel a legjobb imposztor?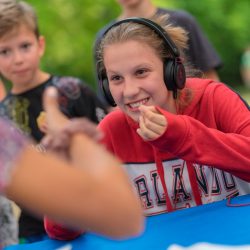 Skills night
Mindenki életében vannak olyan vicces dolgok, amit mindig is szeretett volna megtanulni, de sosem volt rá alkalma..most megtanulhatod!
All possible camp combinations
You may choose a second class for each week from the list below. Learn more…