Basic Information
Full board, special dietary meals available
Learn more
Classes
Our English as a second language (ESL) classes are interactive and practical to encourage learning in a playful way, as it is most suitable for a fun, summer camp environment. The camp is international, with kids representing several countries each year, so you can practice what you learned in real life conversations. Classes are available from beginner to advanced levels every week, so you can always find the right group for you. Weekly sessions start with a short placement test, then the classes are made up of friendly and speaking-oriented exercises and activities. At the end of the weekly sessions, we provide feedback about your in-class performance, through the teacher's assessment form and a video recording of the group project.
English classes take two 120-minute lessons each day, Monday through Friday, in small classes (4 to 8 students per class), based on language level and age. A week-long camp has up to 20, while a two-week 'long camp' has up to 40 hours worth of classes. If you would like to combine the English program with another subject, for instance windsurfing, then you will have one 120-minute class of English and one 120-minute class of windsurfing. (See the full list of possible camp combinations below.) In the afternoons and evenings there are several exciting free time activities: try the Crazy Sports Day, visit the Aqua Park with us or join our Wizarding School Week (see details below).
Weekly group work and presentations
At the Funside Balaton English and Native English Camps we work with our own project-based curriculum. During the first three days of each session we cover new material relating to the Theme of the Week through playful and speaking-oriented exercises, then in the second half of the week we start working on a group project, which is then performed by the class in English in front of our other English groups. The group work may be a live play, a short video or a creative work. All presentations are recorded on video, so that you and your family can watch them after the camp. You can check out one of our favorite project videos from previous years below!
Native English Camp & English Drama Camp
If you are already at a pre-intermediate level (A2 and up) and would like to study English with native English teachers from English-speaking countries, try our Native English Camp. If you are past intermediate level (B1 and up) and looking to practice your spoken English skills through drama classes, try our English Drama Camp.
Free time games and activities
Each week has different free-time activities. Check out the detailed schedule for each week here...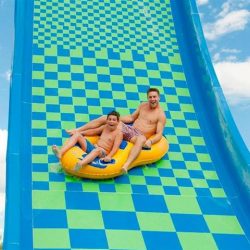 Aqua Park
A trip to the aqua park includes giant water slides, wave pools and a whole lot of fun for Weeks 2 and 4
Inflatable Water Park
Visit a water adventure park with us during Weeks 1 & 5
Crazy Sports Day
Try some of the best extreme sports with your team during Week 3, such as water football, archery tag (13 and older) or the sweeper game!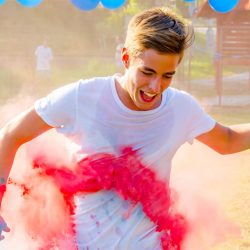 Color Run
Get your T-shirt colored as you cross the line at our paint race during Week 1 or 3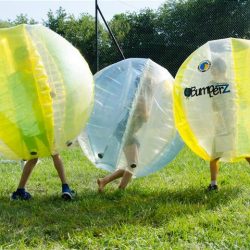 Bubble Football
The giant bubbles return for Week 5 this year for the craziest football game ever!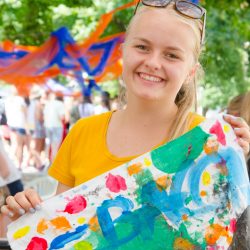 Scavenger Hunt
Funside's own spin on this camp classic is a great way to start off the week
Game of Life
In our very own Game of Life activity, teams battle their way through a life-sized board game
Beach Party
The beach is filled with music and fun during the Funside Beach Party
Color War
Teams will compete for a prize through exciting challenges, representing different colors
Survivor Day
The tribes of the camp battle each other for valuable points in this exciting game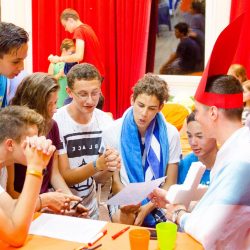 Camp's Got Talent
The tables are turned in this activity: campers get to organize their own dream activities!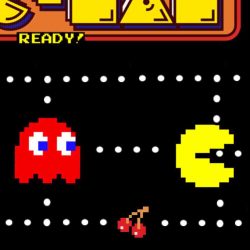 Retro Games Day
Play life-sized versions of your favorite classic arcade and digital games with your group
Battle of the Movies
At the Battle of the Movies, groups create their own short films to win the Funside Oscars!
Superheroes Day
Our favorite superheroes come to life though a series of themes stations
Quidditch Tournament
Play the magicians' and witches' favorite sport with us at this magical tournament!
Game Night
One of our longest running activities is a camp favorite in every session
Emoji Game
In the latest version of our Activity Night, you need your best knowledge of emojis to solve this riddle!
Battle of the Teams
In this game teams fight for points throughout the week to score the Funside Trophy
Lake Balaton
Central Europe's largest lake is just around the corner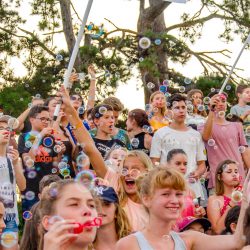 Camp Opening Ceremony
Our traditional camp opening kicks off every session
Campfire
Roast marshmallows and sing-along with us at the campfire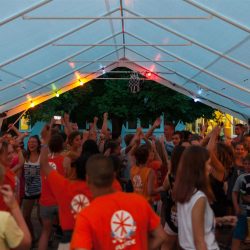 Teen Disco
Our open-air teen disco is a camp classic
Reversed Day
A special afternoon activity where you can try a new class, different from the ones you picked for the week!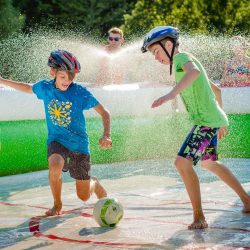 And many more…
There are different weekly themes and activities in each session!
An English project video from camp