Funside Lupa Beach: Budapest's International Summer Camp
Funside Lupa Beach international day camp with a daily bus ride from Budapest city centre
Now in it's third year, our newest day camp carries a true Funside tradition of being bilingual, by welcoming both English and Hungarian-speaking children. In 2022, our campers represented a dozen different countries, making this venue our most international day camp location in Budapest. In 2023, we added a Hungarian as a second language option to our wide selection of classes to choose from.
By our free shuttle bus ride from Budapest City Centre, campers can travel with our teachers to and from the lake every morning and afternoon, where they can choose from a range of exciting classes including languages and sports, two per week, all summer long! In the afternoons, enjoy fun outdoor activities: we visit the Wibit water park daily, go on kayaking tours and try some of our well-known activities from our Balaton camps as well. Our camp is open to any children meeting our age requirements and language requirements, just choose from our long selection of classes below to get started!
Day camps at Lupa Beach in 2023
You may choose 2 of the following classes per session, e.g. English language (1.5 hours) and Water sports (1.5 hours), for a total of 3 hours of classes per day.
Availability of classes 2023
Learn more
Legend
The activity is available on this week
This activity already sold out for this week
Free daily shuttle bus service for our campers
Morning
Start- 7:30 Westend- in front of Vapiano restaurant
stop - 7:40 Flórián square- Raktár street
Final destination - 8:10 Lupa Beach parking lot
Afternoon
Start - 16:35 Lupa Beach Parking
stop - 16:50 Flórián Square- Raktár Street
Final destination - 17:00 Westend Vapiano
Check out our video to see what a summer on Lupa is like!
Camp Schedule and Activities
Each week begins on Monday and ends on Friday. We are open through June and August, from 8 am to 5 om. Teaching takes place in the morning (in two time slots, 1.5 hours each) at the modern and playful environment at Lupa Beach. In the afternoons, we are hosting outside activities, games, competitions and sports in the surrounding area.
Free time games and activities
Wibit Water adventure park
Let loose on the gigantic inflatable obstacle course on the lake!
Trampoline Park
Jumping through the afternoon!
Beach Party
The beach is filled with music and fun during the Funside Beach Party
Cayaking
Don't miss out on an unforgettable kayaking trip on the lake!
Funside Water Olympics
Team sports on the sandy beach and in the water!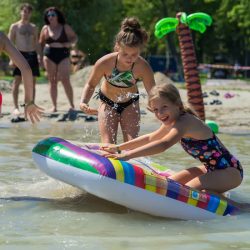 Beach Games
Team building games on the beach to begin the week with!
Emoji game
Get creative and found out the most words from your teammates emoji cards!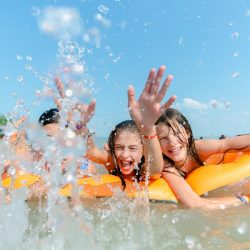 Beach Time
The crystal clear Lake Lupa awaits us all afternoon!
Imagine
Get creative with your teammates and solve as many puzzles as possible!
20 second showdown
Unforgettable mindlessness for an afternoon!
Frequently asked questions (FAQ)
Who are the teachers?
Our team is made up of carefully selected, qualified teachers and coaches, with a maximum teacher-student ratio of 5:1, and our experienced, liability-insured organizers team has been ensuring quality and safe programmes since 2007.
What's our bad weather policy?
In case of rainy weather, the Lupa Beach Conference Centre provides spacious rooms for you to enjoy the day! We have lots of rain activities planned, and when the sun comes out again, we'll make up for the most important activities whenever it's possible.
How much does the day camp cost?
The camp fee starts from EUR 289 or HUF 119 900. You can read more about our siblings discount and prices here.
Location
How to get there
Our newest location is in Budakalász, at Lake Lupa: "Budapest's seaside" provides a great camping venue with its sandy beaches and palm trees, near the city of Budapest.
Lupa Beach,
2011 Budapest , Tó utca
We provide a free shuttle bus service to Budakalász. The service has 3 stops in Budapest: Nyugati Railway station (Westend-Váci út), Florian square.
Take Route 11 from Budapest to Szentendre and take the exit to the right at Lupa-sziget. Then follow Lupaszigeti út to the main parking lot. Our signs will also help you navigate. Parking is free for dropping off/picking up children.