Funside day camps are coming to Lupa Beach!
Take a free daily bus ride from Budapest city centre
Funside comes to Budakalász: in 2021, we have built on our 15-year tradition of kids' camps and opened a new venue at Lupa Beach. For 8 weeks starting from 28 June, our campers can enjoy the Funside experience at Lupa beach, where we have prepared a range of morning and afternoon activities for them to enjoy. This includes five classes from which you might choose two for a given week: the repertoire includes English language based on Funside School's individual curriculum, as well as Drone-programming, Beach sports, SUP and Yoga. The afternoon activities will include a wide range of experiences, such as Kayaking on the lake, and some of the activities which our campers love at Funside Balaton, like the Scavenger Hunt, Emoji game, and the Water adventure park.
Day camps at Lupa Beach in 2021
You may choose 2 classes for each week, e.g. English language (1.5 hours) and Yoga (1.5 hours), together making up the 3 hours of teaching a day.
Check out our video from the first week
How can you get to Budapest's most unique kids' camp?
We provide a free shuttle bus service to Budakalász. The service has 3. stops in Budapest: Nyugati Railway station (Westend-Váci út), Margit Bridge Buda side, Florian square.
Each week begins on Monday and ends on Friday. We are open through June and August, from 8 am to 5 om. Teaching takes place in the morning (in two time slots, 1.5 hours each) at the modern and playful environment at Lupa Beach. In the afternoons, we are hosting outside activities, games, competitions and sports in the surrounding area.
Free time games and activities
Beach Sports
Handball, football, volleyball and many more on the sandy beach!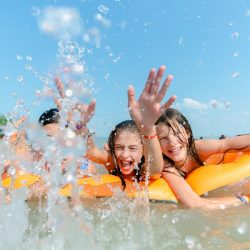 Beach Time
Freedom to enjoy Budapest's best waters!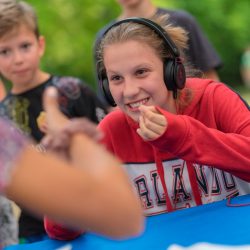 Scavenger Hunt
Our all-time classic team-building game builds on creativity and brings everyone closer to each other!
Emoji game
Get creative and found out the most words from your teammates emoji cards!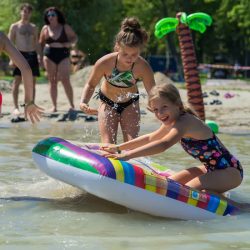 Beach Games
Team building games on the beach to begin the week with!
Water adventure park
Let loose on the gigantic inflatable obstacle course on the lake!
Cayaking
Don't miss out on an unforgettable kayaking trip on the lake!
Availability of classes 2021
Legend
The camp is available on this week
This camp already sold out for this week