Funside Balaton international camp 2020
Funside Balaton turns 10 years old in 2020, and to celebrate, we are bringing you all sorts of new stuff this summer: we have 3 brand new classes and one of our previous favorites is returning. This brings our total to 24 different subjects for you to choose from (you may select two for each week), which is still the widest selection in the region! Many of our beloved afternoon and evening activities will be updated for our anniversary year, and we are also bringing you as many as 12 brand new activities to try this summer, as well as new weekly themes and our very first Campers' Choice Week. Our overnight summer camp is for kids and teens of ages 8 to 17, welcoming local children, as well as campers from close to 30 different countries. This year's sessions go from July 5 to August 8, at our usual Lake Balaton venue in Hungary.
At Funside, we are proud of having a young and well-prepared team of camp leaders, carefully chosen and trained in order for us to provide the best camp experience to our campers, also underlined by our exceptional 5 to 1 kids to adults ratio at camp. Funside Balaton is a bilingual camp, with English and Hungarian both being official languages, while all our staff, including local camp leaders, speak English as well. Our camp is open to any children meeting our age requirements and language requirements, just choose from our long selection of classes below to get started! Check out the Top 10 countries represented at the camp here. Check out our Facebook reviews from parents and campers here.
Registration
Registration is available through our online sign-up form while places last. To check which class is already full or still available, please refer to the sign-up form. (The see the list of classes on the form, you must first fill in the date of birth.)
International Camp
Funside Balaton is Hungary's largest international summer camp with over 25 countries represented each year
24 different subjects
Funside Balaton offers the widest selection of classes in the region, available at a single location
Unique Activities
We offer a rich selection of afternoon and evening free time activities, including new games designed by us every year
Team Spirit
Our staff is carefully selected from a large pool of candidates to ensure the best camp experience
Over a decade of Funside
We are proud to have had close to 10 000 campers in over 150 camp sessions since 2007
578
Summer camps 2020
You may choose up to two different classes for each week from the ones below. Learn more...
Fine Arts & Performing Arts
Camp Schedule and Activities
Sessions start on Sundays and end on Saturdays. When staying for multiple weeks, your stay also includes the Saturday nights between the sessions. Learn more...
The afternoon and evening activities are the same for all of our campers, regardless of which classes they choose for the mornings. For example, if you are attending the combination of English and Dance Camps, and you have a friend who is attending the Music Camp, you will still see each other at the afternoon and evening programs and may even share the same room if you request it on your sign-up form and meet the criteria to share a room.
Week 1 schedule (July 5-11 2020)
Changes in the program: some changes to this year's program were also necessary to carry out this summer season, including limiting our number of weeks to 4 for this year only, thereby starting camp a week later than originally planned. Week 1 (July 5-11) is cancelled, the theme and activities ("SIMS Week") will move to Week 3 (July 19-25). The "Olympics Week" theme will be held in 2021 instead.
Free time games and activities
Air Park
Inflated obstacles and sports games on 600 square meters in one Ninja Warrior-inspired activity on the Week 1 and 3!
Water Adventure Park
A trip to an aquatic obstacle course on Lake Balaton on the Week 2 and 4!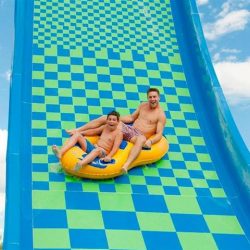 Aqua Park
A trip to the aqua park includes giant water slides, wave pools and a whole lot of fun on the Week 5!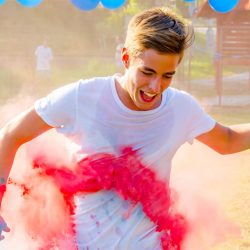 Color Run
Get your T-shirt colored as you cross the line at our favorite fun run on the Week 4!
Bubble Run
Have a great time as you run, walk or even dance through our fun run filled with bubbles on the Week 5!
Record Attempt
We'll make sure to be in the books on our 10th year – stay tuned to find out, how!
Sims Day
Your group leader will be your sim for a day – turn them into heroes!
Beach Party
The beach is filled with music and fun during the Funside Beach Party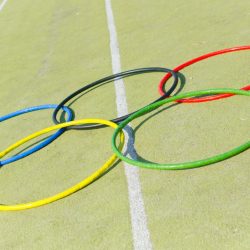 Funside Olympics
Be the best at the crazy games of Funside Olympics!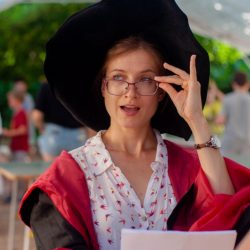 Harry Potter Day
Dive into a world of magic in Funside once again!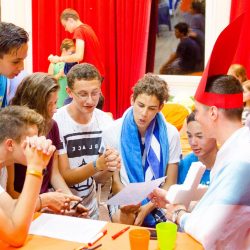 Camp's Got Talent
The tables are turned in this activity: campers get to organize their own dream activities!
Quidditch Tournament
Play the magicians' and witches' favorite sport with us at this magical tournament!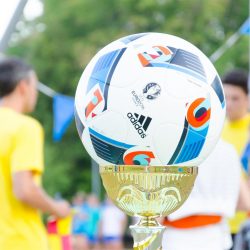 Euro Cup
Celebrate the 2020 Euro Cup with our own fun football games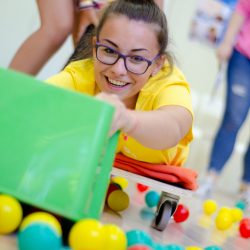 Color War
Teams will compete for a prize through exciting challenges, representing different colors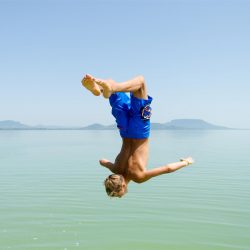 Lake Balaton
Central Europe's largest lake is just around the corner
Wall Street Trade-off
Play and trade with your friends on the Wall Street of Balatongyörök!
Mystery Game
Solve camp mysteries in our newest afternoon activity!
Game of Life
In our very own Game of Life activity, teams battle their way through a life-sized board game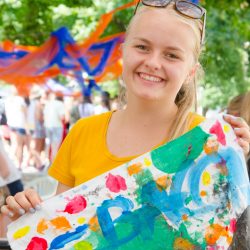 Scavenger Hunt
Funside's own spin on this camp classic is a great way to start off the week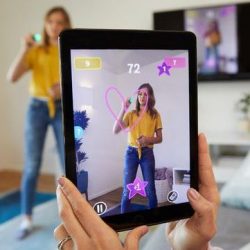 Pictionary Night
Activity nights just got better: draw in the air and hope that your teammates will see the same on the screen as you do in your head!
Emoji Game
In the latest version of our Activity Night, you need your best knowledge of emojis to solve this riddle!
Battle of the Teams
In this game teams fight for points throughout the week to score the Funside Trophy
Airpark
Inflatable obstacles and games on 600 square meters. Are you ready?
Camp Opening Ceremony
Our traditional camp opening kicks off every session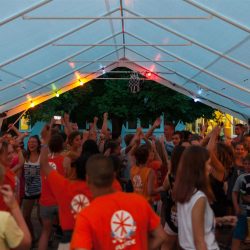 Teen Disco
Our open-air teen disco is a camp classic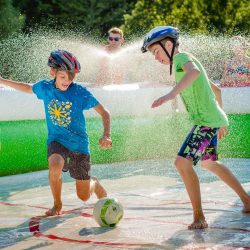 And many more…
There are different weekly themes and activities in each session!
Every weekly session features different free time activities: see the tables above for the detailed schedules. Funside reserves the rights to change any programs or schedules when necessary.
2020 is Year of Unplugged Activities at Funside Balaton
At Funside, we believe that a positive approach can go a long way, as motivation can only become internal if we recognize the reasons and aims behind it. We have never prohibited our campers from bringing mobile phones or any electronic devices to camp, and this year is no different. Technology has became essential to our lives, and the same can be said for Funside, as we know just how important it is for campers and parents to keep in touch during the weeks of the camp, as technology is now an integral part of the communication. We also rely on educational technology, bringing innovation to our classes at our camps, workshops and after school courses as well.
However, camp is enjoyed best when we are bale to get lost in experiencing the world around us, getting immersed in the activities without constraints and distractions. Because what will we remember years later from these weeks spent together? The jokes we laughed about with our roommates, the inspiring words of our group leaders, the excitement of the games we played: put simply, everything, when we were there in the moment. To fully experience all this, we must be fully present and realize when something is holding us back from doing just that.
Thus, following our Year of the Environment in 2019, Funside Balaton goes Unplugged in 2020: we are encouraging our campers, whenever possible, to try and leave your phones behind for the afternoon and evening activities, and make 100% of every moment you spend with us! #unpluggedtogether #socialmission
The environmentally conscious camp program
2019 was Year of the Environment at Funside Balaton, and in 2020, we are picking up where we left off!
Being environmentally friendly remains a priority at camp, as we must try and preserve the world our campers live in. In 2019 we stopped using balloons, disposable plastic cups and straws, and we introduced recycling and began using renewable energy thanks to the solar panels installed at the camp venue. We digitized our placements tests to save hundreds of pages of printing, and in 2020 we pledge to digitize some of the camp administration to save even more.
You can get involved too!
We would love to hear your ideas on how to make the camp greener: share them with us via Messenger or Instagram, or in person at the camp. We will collect all ideas that are feasible to be implemented and make a considerable difference in our environmental impact, and will also pick a winner with the most outstanding idea, who will get to pick a prize of their liking from the 2020 Funside Shop!
What our campers and their parents say