Funside Balaton international camp 2023
4 new classes and 12 new activities this year!
Funside Balaton turns 13 years old in 2023, and we are bringing you all sorts of new stuff this summer, including 4 new classes, 4 brand new weekly themes and 12 new activities! We are preparing 26 different classes for you to choose from (you may select two for each week), which is still the widest selection in the region. Our overnight summer camp is for kids and teens of ages 8 to 17, welcoming local children, as well as campers from close to 30 different countries. This year's sessions go from July 2 to August 5, at our usual Lake Balaton venue in Hungary.
At Funside, we are proud of having a young and well-prepared team of camp leaders, carefully chosen and trained in order for us to provide the best camp experience to our campers, also underlined by our exceptional 5 to 1 kids to adults ratio at camp. Funside Balaton is a bilingual camp, with English and Hungarian both being official languages, while all our staff, including local camp leaders, speak English as well. Our camp is open to any children meeting our age requirements and language requirements, just choose from our long selection of classes below to get started! You may share the same room with your friends, if you request it on your sign-up form and meet the criteria. Check out the Top 10 countries represented at the camp here. Check out our Facebook reviews from parents and campers here.
Update: registration has begun and places are limited. Follow this page to see which sessions and classes are still available.
Funside Balaton is Hungary's largest international summer camp with over 25 countries represented each year.
Funside Balaton offers the widest selection of classes in the region, available at a single location!
We offer a rich selection of afternoon and evening free time activities, including new games designed by us every year
Our staff is carefully selected from a large pool of candidates to ensure the best camp experience
We are proud to have had close to 10 000 campers in over 150 camp sessions since 2007
You can choose up to two of the following classes per week!
Fine Arts & Performing Arts
Camp Schedule and Activities
In 2023, we're looking forward to welcoming our campers with 4 brand new weekly themes (and the already announced Campers' Choice week) and 12 new afternoon and evening activities! Every day from Saturday, March 11, for 5 days we will unveil a new weekly theme and its detailed programme each dqy on our Facebook page! After that, you will also find all the important information about the new themes and programmes on this page!
Sessions start on Sundays and end on Saturdays. When staying for multiple weeks, your stay also includes the Saturday nights between the sessions. Learn more…
The afternoon and evening activities are the same for all of our campers, regardless of which classes they choose for the mornings. For example, if you are attending the combination of English and Dance Camps, and you have a friend who is attending the Music Camp, you will still see each other at the afternoon and evening programs and may even share the same room if you request it on your sign-up form and meet the criteria to share a room.
Week 1 schedule (July 2-8, 2023)
Theme of the week :
Gods and Mortals
Please click on the table to enlarge it.
Learn more
Activities
Week 2 schedule (July 9-15, 2023)
Theme of the week :
Color War (Campers' Choice winner 2023)
Please click on the table to enlarge it.
Learn more
Activities
Wibit Water adventure park
Week 3 schedule (July 16-22, 2023)
Theme of the week :
Funside World Tour
Please click on the table to enlarge it.
Learn more
Activities
Week 4 schedule (July 23-29, 2023)
Theme of the week :
THE JUNGLE!
Please click on the table to enlarge it.
Learn more
Activities
Week 5 schedule (July 30 - August 5, 2023)
Theme of the week :
Christmas in July
Please click on the table to enlarge it.
Learn more
Activities
Free time games and activities
Bobo Fun Park
Trampoline parks, climbing walls, adventure park! Bobo Fun Park has it all in one place in a 3000 m2 facility.
Air Park
Inflated obstacles and sports games on 600 square meters on the Week 1 and 5!
Wibit Water adventure park
Let loose on the gigantic inflatable obstacle course on the lake!
Amazing race
Push your limits, take the adventure and find out what team power can do!
Bingo Lingo
Fun challenges, surprises and lots of BINGOOO await you!
Jumanji
The world of Jumanji has many surprises. Remember, you can only get out if you work together!
Wall Street Trade-off
Play and trade with your friends on the Wall Street of Balatongyörök!
Beach Party
Music, sunshine, waves, good vibes and games. An unforgettable afternoon at Lake Balaton!
Night Adventure
Get ready for an unforgettable evening adventure where you'll have to work as a team to face different challenges!
The Chase
Logic, creativity, strength, speed and fun – you'll need them all at the Chase!
Live Cluedo
Who, what and where? The answer is in your hands!
Trivia night
Who knows the answers faster?
Dodgeball Championship
For the first time at Funside, a real big dodgeball championship. Fight to the last minute!
20 second showdown
Unforgettable mindlessness for an evening!
Race to save Christmas
Let the Christmas bells ring, put your Santa hats on, it's the Race to Save Christmas!
Beat that!
Jump, roll, balance and catapult to victory!
Neon night
Light-up games, neon lights and lots of fun await you this evening!
Christmas Day
For the first time in Funside's history, we're getting in the mood for the holidays together!
Camp Opening Ceremony
Our traditional camp opening kicks off every session!
Teen Disco
Our open-air teen disco is a camp classic
Lake Balaton
Central Europe's largest lake is just around the corner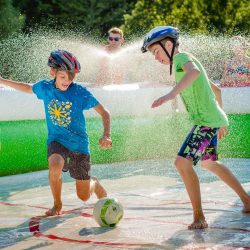 And many more…
There are different weekly themes and activities in each session!
Every weekly session features different free time activities: see the tables above for the detailed schedules. Funside reserves the rights to change any programs or schedules when necessary.
The environmentally conscious camp program
Location
How to get there
The Funside Balaton international camps are held in Balatongyörök, 10 km from Keszthely. The camp is only 100 metres from the beach, so both Lake Balaton and the sports fields are easily and conveniently accessible.
Funside Balaton,
8313 Balatöngyörök , Szépkilátó hrsz. 707/1.
After the Balatongyörök Szépkilátó (signposted), turn right at the first opportunity. Continue for about 50 meters and you will see our team members helping you to drive to the camp.
By bus from Budapest, with Funside group
Campers have the option to travel in a group, supervised by our teachers, from Budapest to the camp venue and back, by bus.
If you are travelling by train individually, we can arrange to pick you up at the 'Becehegy' station between 11 am and 2 pm on the first day of your stay. Please notify us of your arrangements at least two weeks in advance.
If you are travelling to the camp by plane, please let us know about your flight details as soon as possible, so that we can help by arranging airport transfers to the camp.